Here are some of sunday's recipes...
Lemon curd - to cook, can you believe it, in a microwave!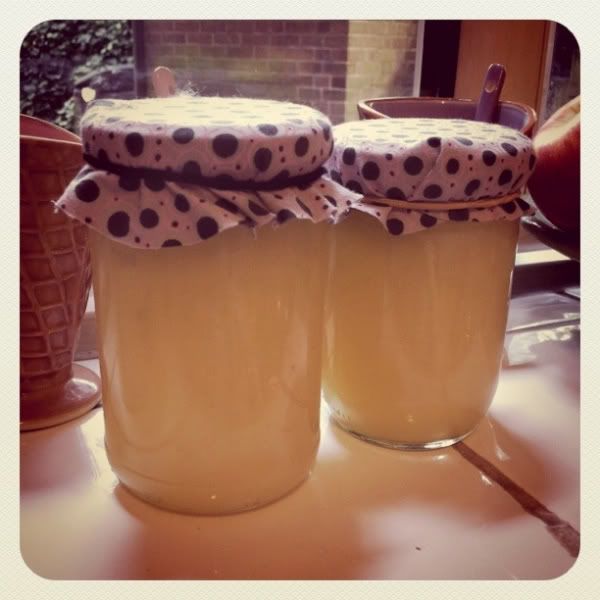 200g Caster Sugar
100g Unsalted Butter
250ml Lemon juice
lemon zest
3 eggs
Beat together the sugar and eggs, add the softened butter, keep mixing and add the lemon and lemon zest...
then put the whole lot in the microwave for 30seconds, take out, stir... back in microwave, take out stir and on and on until the mix is thick enough to coat the back of a spoon.. then pour into jars and leave.. amazing! I am now going to make this all the time, I had no idea it was so easy!
Chocolate brownies...
200g butter
125g dark chocolate
150g plain flour
440g caster sugar
1/4 teaspoon baking powder
4 eggs
icing sugar
2 tbsp cocoa
preheat the oven to 180c, place the butter and chocolate in medium saucepan, over a low heat and stir until melted and smooth.
place the flour, sugar and cocoa, and baking powder in a bowl... add the eggs and chocolate mixture and stir well.
place in a lightly greased 20 x 30cm rectangular cake tin.
bake for 40 to 50 mins
cool and dust with icing powder, or in my case cover in chocolate icing :)
Lemon, Coconut cloud cake... wow.. perfect with the homemade lemon curd aswell! x
for the cake:
225g unsalted butter
225g caster sugar
1/2 lemon zest
5 eggs
225g self raising flour
1 1/2 tsp baking powder
100g desiccated coconut
for the filling and topping:
450g full fat cheese
125ml coconut cream
zest of 1 lemon
100g icing sugar
8tbsp lemon curd
100g dessicated cocnut
2 22cm cake tins
preheat the oven to 170c, butter and flour the cake tins..
to make the sponge, first beat together the butter, sugar and lemon zest.
add the eggs one at a time with a spoonfool of flour between (this stops it curdling) and mixing well.
add the remaining flour, and the baking powder and coconut
mix well.
divide the mixture between the tins, place in the oven for 25 mins.
to decorate, beat together the cream cheese, coconut cream, lemon zest and icing sugar .
slice both halfs of the cake in half again. to make 4 layers.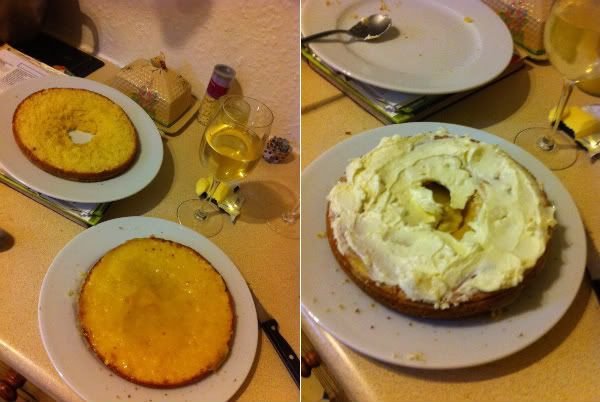 spread lemon curd on one layer, then sit another layer on top, then spread a good dollop of the cream mixture over this one and place the third layer on top. spread over the remaining lemon curd and add the final layer. the rest of the cream can now be spread all over the top and the sides to give a cloud effect
I then covered the whole lot is sliced coconut aswell! Amazing! x